Meet MClimate Flood Sensor!
Be aware whenever a leakage or a flood is detected and protect your home.
*30 days 100% money back guarantee & 2 years international warranty
With the MClimate mobile App you can keep an eye on your home from anywhere in the world and prevent damages caused by leaking pipes or home utilities.
In case of a flood or if any liquid is covering the ground., the device makes distinctive sound to warn everybody at home and sends a notificaton to your smartphone.
Advanced leakage
detection

Detects minor and major leakages/floods and reports immediately to the MClimate App. It can identify potential threats, including smaller leaks and sudden temperature changes in its environment.
Easy, tool-free installment. The Flood Sensor is wireless and its dimensions allow you to put it wherever you think a leakage could occur.
Flood Sensor uses its battery smartly. While the sensing module of the device is powered constantly, the Wi-Fi turns on only when water is detected, to send information to the user.
Get detailed information about all detected leaks and irregularities on your smartphone so you can investigate them and refer to your logs to find and fix potential issues.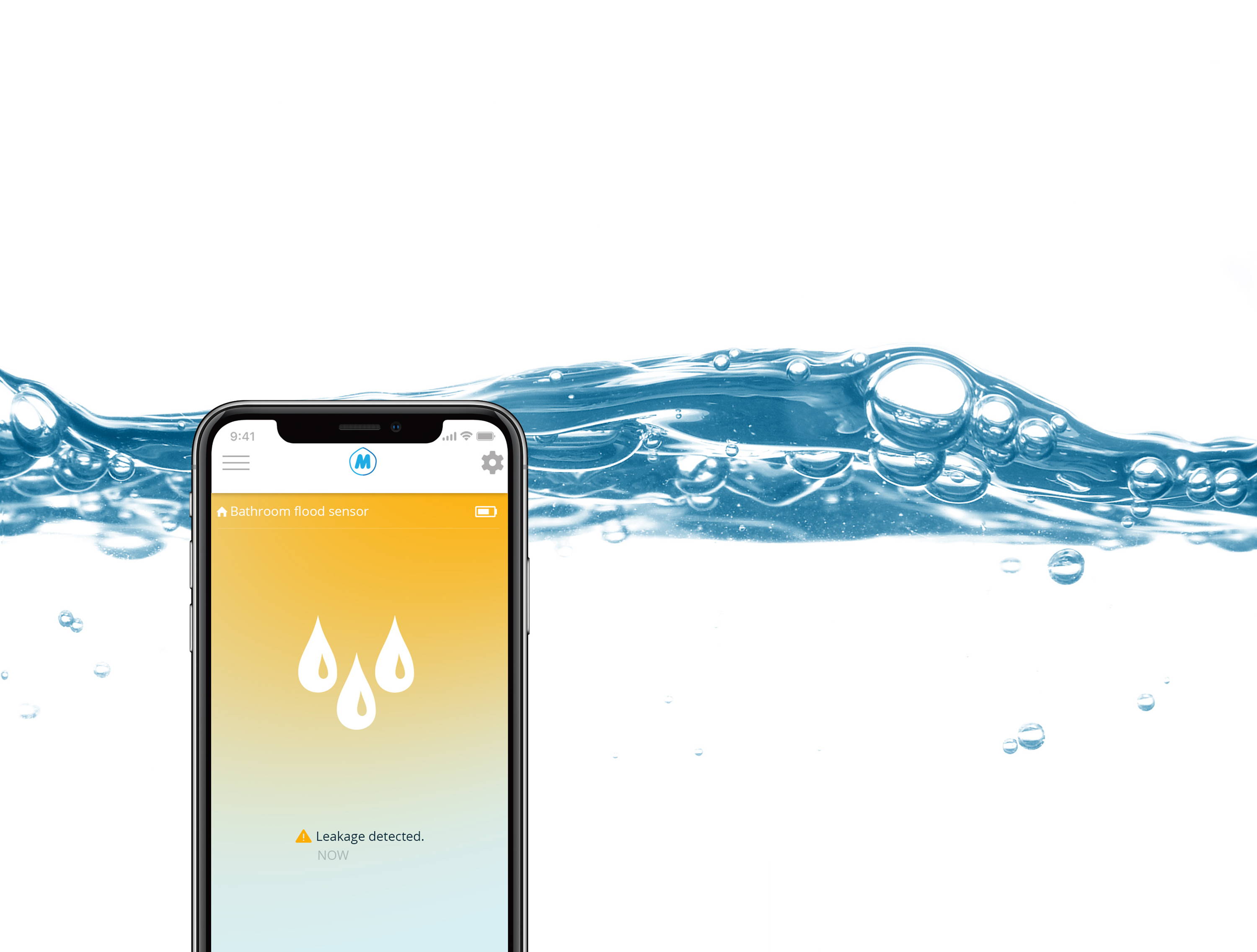 Protect your home from water damage.
Water damage could be very dangerous, resulting in structural faults and safety hazards in your home, such as unsound walls and mold growth. MClimate Flood Sensor quickly alerts you when water shows up where it shouldn't, protecting you, your family and home. 
With its durable and waterproof panel (IP67) and compact design, MClimate Flood Sensor fits everywhere water can show up. With its probe you can get to even the most hard-to-reach places.
Combine with T-Valve to prevent damages by remotely shutting off your water supply
With MClimate T-Valve you can take immediate action and stop the water supply of your home in case of a flood or a leakage. Reliable military grade long range technology (LoRaWAN) triggers notifications with options for automatic, manual or remote shut off function to prevent water damage.
See when a leakage has been detected
The Activity Log of the MClimate App provides you with a detailed information about all the detected activities during the day.
Vicki auto-detects
when you open a window
Vicki allows multi-room heating control directly from your smartphone! With Vicki's Artificial Intelligence, you can save even more compared to smart thermostats!
Forget the wires and place MClimate Flood Senor wherever you want - it's designed to perfectly fit even in the most hard-to-reach places. Fast and hassle-free installation.
Battery: CR2-3V x 1

Size: 68mm x 68mm x 34mm
Battery life: 1 year (7 triggers/day); 2 years (3 triggers/day)
Operating temperature: 0°C-40°C (32°F-104°F)
Oprating humidity: 20%-85%
*30 days 100% money back guarantee & 2 years international warranty
Have more questions about MClimate Flood Sensor? Visit our Support Center.