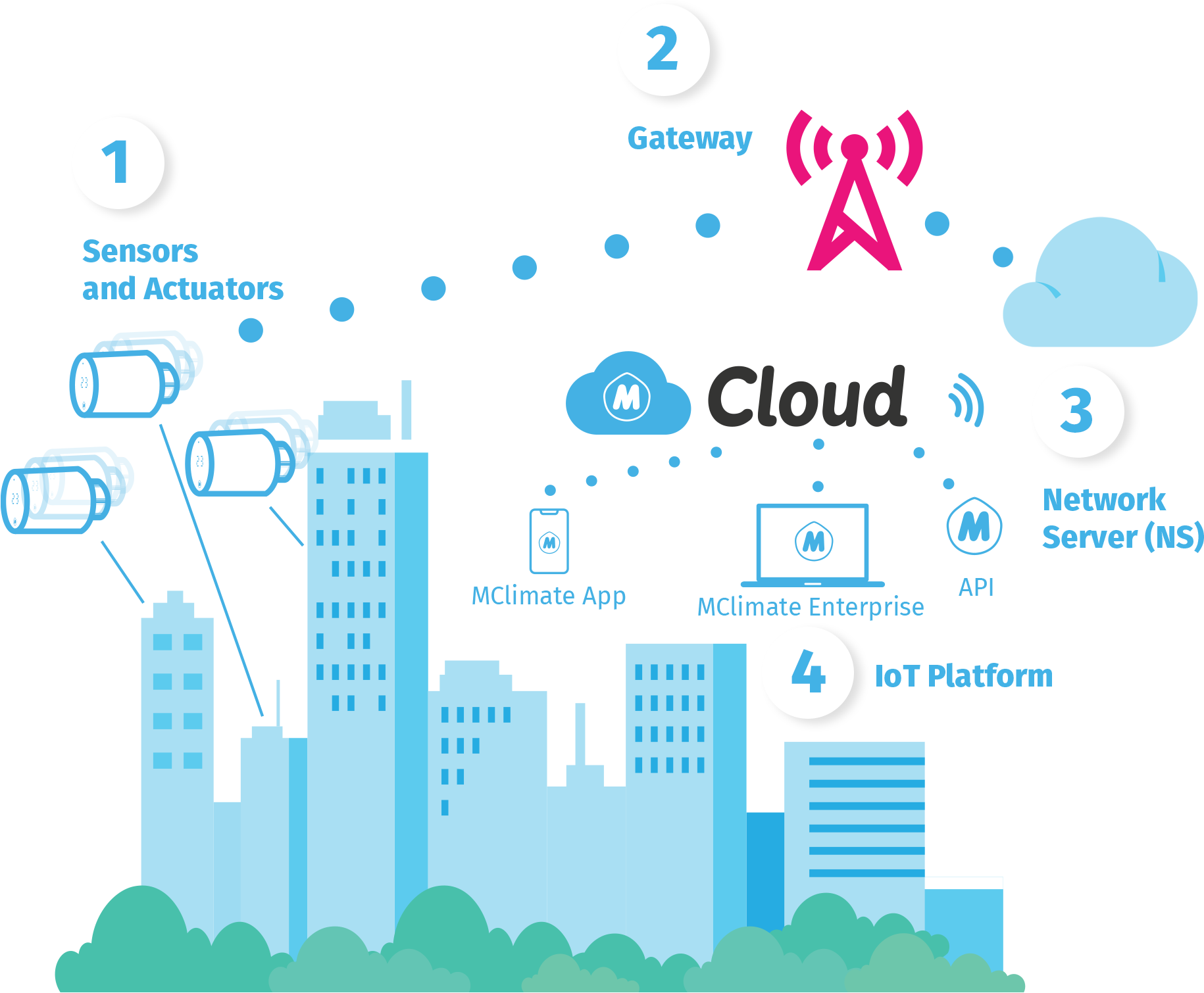 Sensors
and Actuators

Battery-operated devices that sense and control the environment.

Antenna

Communicates with end-devices and relays traffic to the Internet. A mobile operator network can be used or one can use open-source options.

Network Operator Cloud

Collects data from devices and can send commands to them.

IoT Platform

Receives information from Network Operator Cloud and displays it in an appropriate manner for a facility manager. Manages communication of schedules, commands, et cetera to devices.

Unlike other disruptive technologies that can be slow to gain global adoption, the LoRaWAN technology is not just a promise of a future potential, but a reality readily available today all around the globe. With over several hundred known use cases (and growing), and more than 130 million devices deployed on every inhabited continent in 2019, LoRaWAN devices are creating a Smart Planet. Industry analyst IHS Market projects that 730 million or 43% of all LPWAN connections will be based on LoRa by 2023.



Our LoraWAN products benefits
The wider the coverage, the better and cheaper the IoT infrastructure. With LoRaWAN, the range is nearly 8 km in urban settings and 15 km in suburban areas.
The LoRaWAN standard is based on an open protocol approach managed by the LoRa Alliance which supervises the development of the standard and ensures interoperability.
Wireless, easy to set up and able to support thousands of connected end-devices and millions of messages transmitted. Its fast deployment allows for large scale projects to come to live quicker and cheaper.
Long battery life of up to 10 years

Specifically designed to dramatically reduce the power consumption and extend the battery life, LoRaWAN based data transmission and reception requires low current (less than 30 mA).
The LoRa waves can pass through obstacles and allow deep indoor penetration and adds the ability to reach sensors monitoring water or gas meters located underground.
LoRaWAN security design adheres to state-of-the-art principles: use of standard, well-vetted algorithms, and end-to-end security ensuring mutual authentication, integrity protection and confidentiality.
Bidirectional
communication

Fully bidirectional communication enables a wide variety of uses cases requiring uplinks and downlinks. Sending data to networks and receiving information in return, LoRaWAN devices can deliver status messages even to remote locations.
The LoRaWAN open standard combined with cost-free operation frequencies and low-cost base stations allows operators to roll out networks quickly and with minimum investment.
Thanks!
This field is required
This field is required
This field is required