Meet MClimate T-Valve - the remote water ON/OFF controller  
Control your home's water supply through your smartphone and prevent any flooding or damages to your home.
*30 days 100% money back guarantee & 2 years international warranty
With the MClimate App you can monitor your home from anywhere in the world and prevent leaks and damages.
With your best comfort in mind, the MClimate App adjusts its notification volume according to your location. Loud, when you are outside, and silent when you are at home.
Take immediate action and stop the water supply of your home in case of a leakage.
T-Valve's built-in battery keeps the device energized for a full 10 years, giving you peace of mind that your home is safe from leaks in the longer run.
With an outlet aperture of 3/4", T-Valve fits into most appartments' plumbing systems.
Enjoy T-Valve's intuitive manual control. You can turn on and off your home's water supply by one press of a button. 
Some facts about the leakage at home
Water damage could be very dangerous, resulting in structural faults and safety hazards in your home, such as unsound walls and mould growth. MClimate T-Valve protects you, your family and home.
54% of households have experienced mains-related water damage in their homes. (1)
Water damage could have been prevented in 93% of the cases. (2)
According to The Association of British Insurers, escape of water causes approximately £2 million worth of damage every day. (3)
After just 24 hours mould can start to build up due to humidity: causing respiratory problems, asthma and allergies. (4)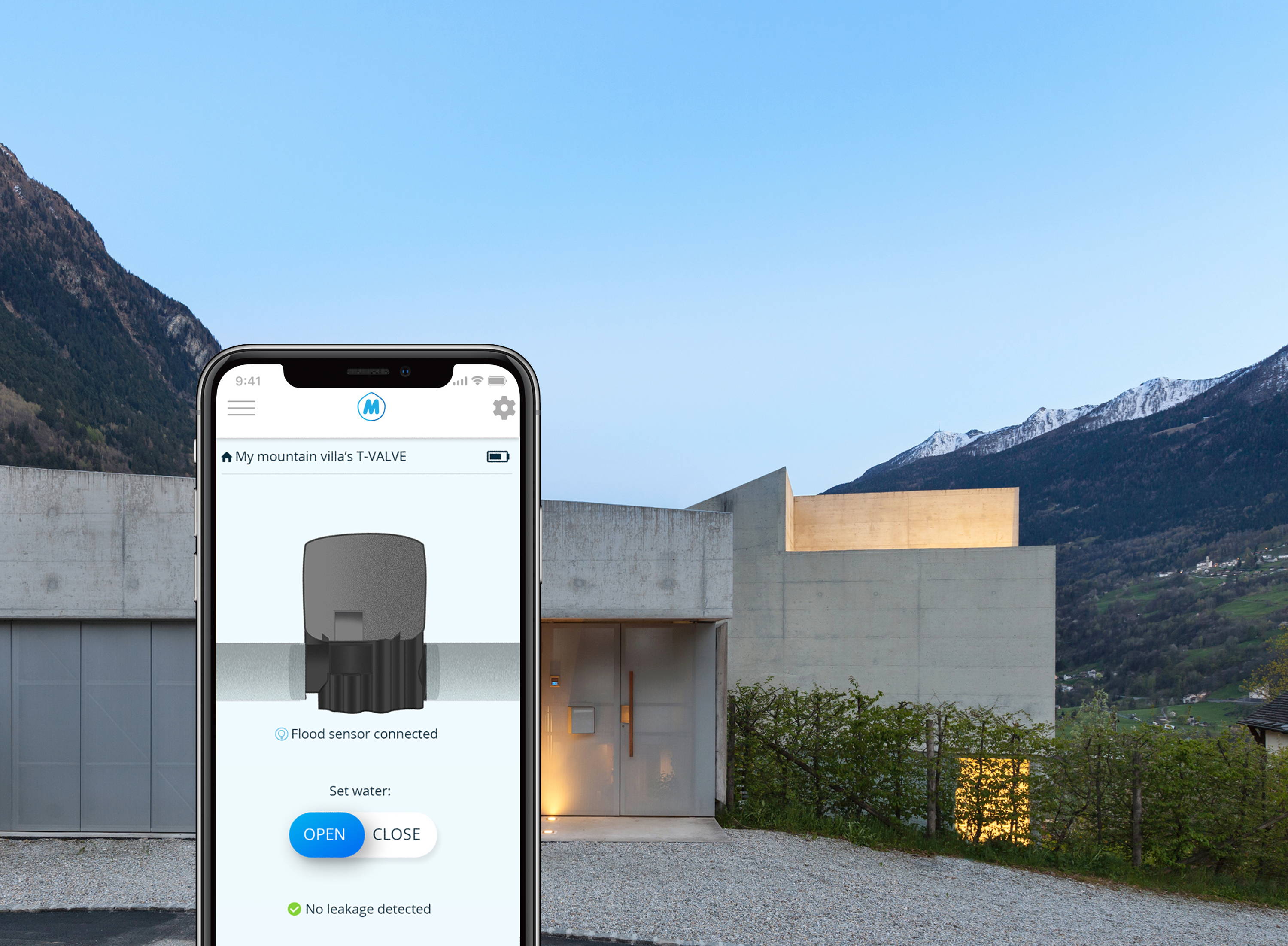 MClimate App interface is user friendly and headache-free. Using T-Valve is as simple as operating a tap.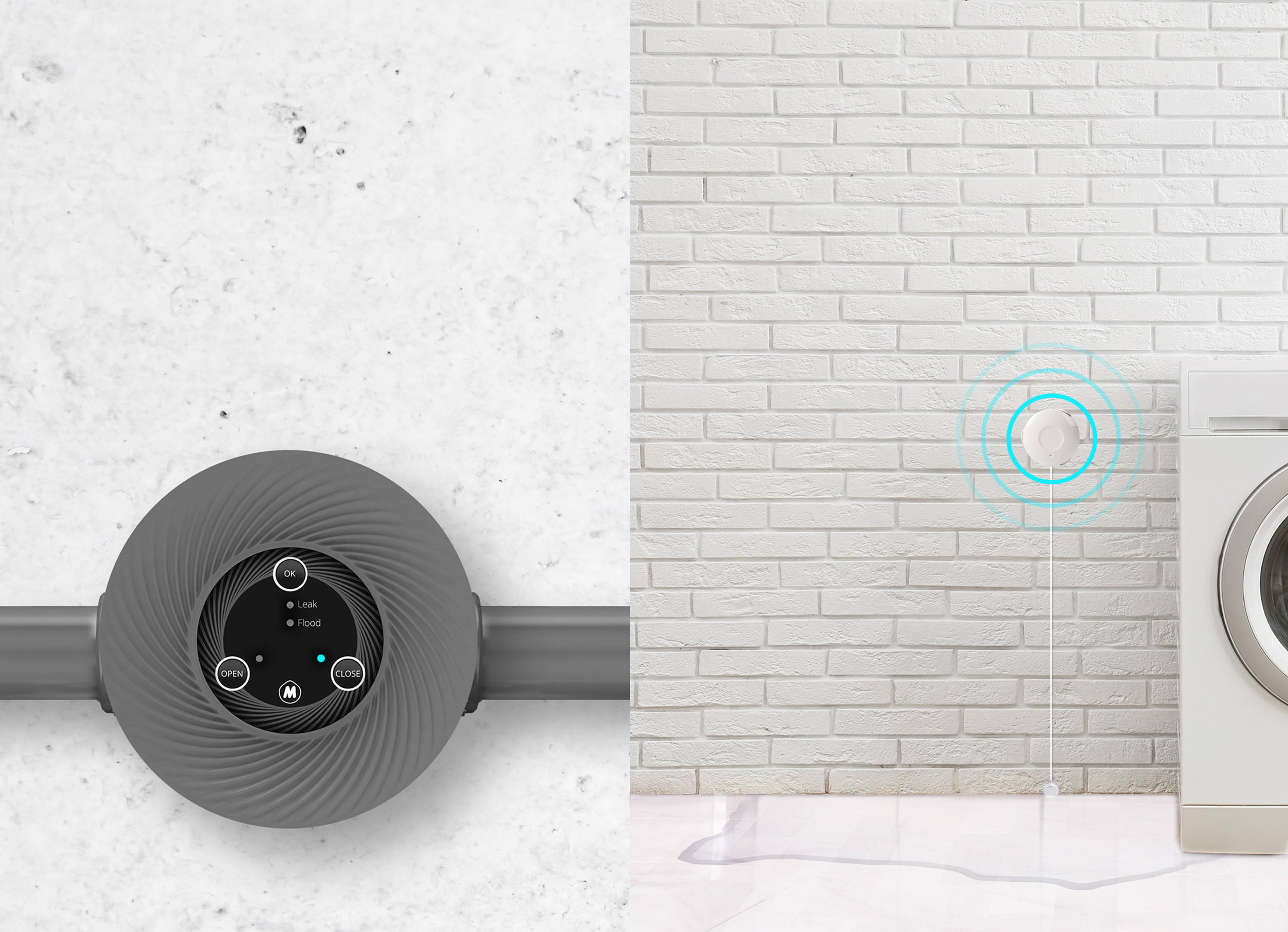 T-Valve is compatible with MClimate Flood Sensor.
MClimate Flood Sensor will quickly alert you when water shows up where it shouldn't, so you can take immediate action and stop the water supply by using T-Valve.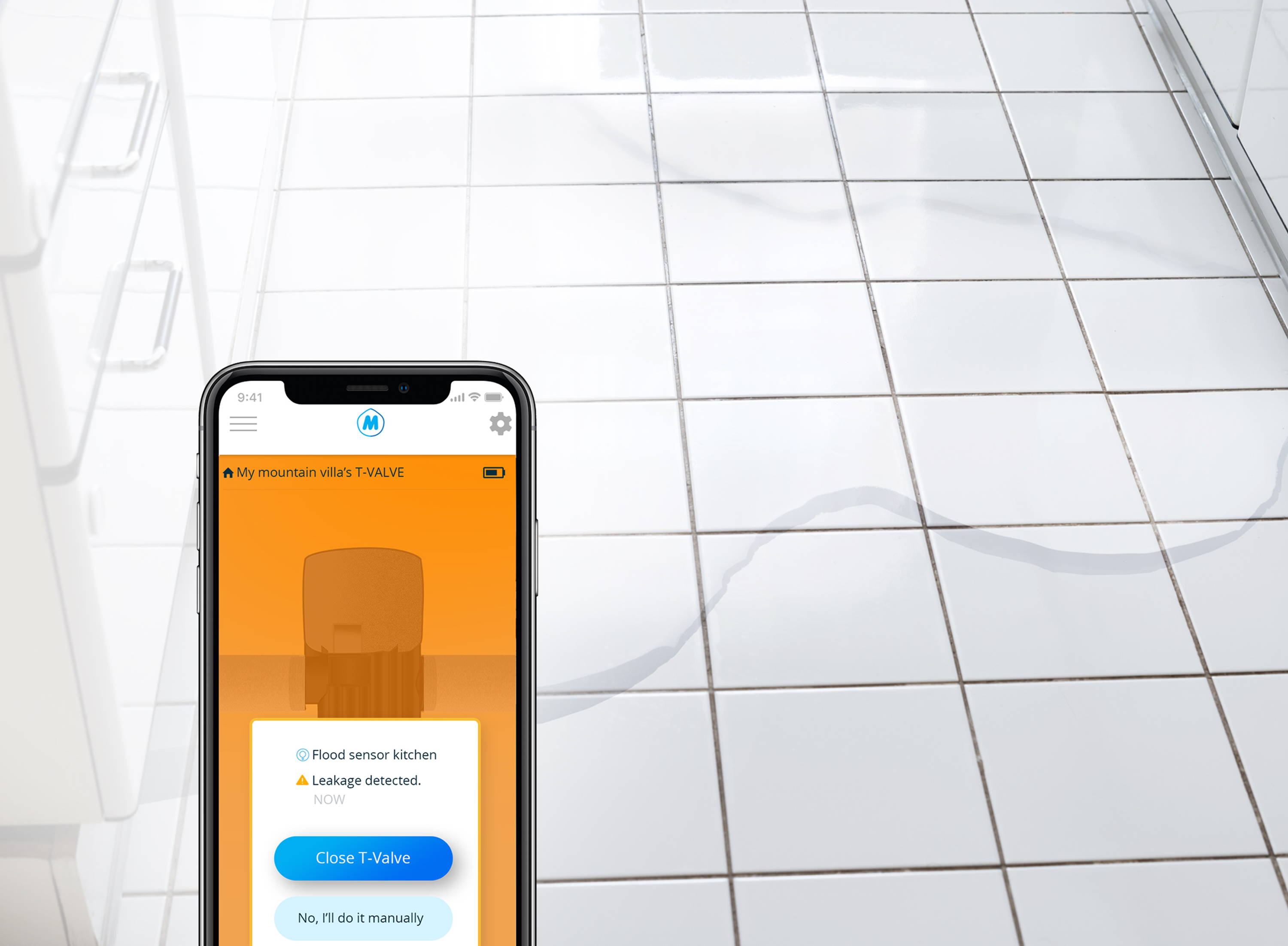 Be notified whenever a leakage
is detected and take action immediately.
Water damage is not always visible and can remain undetected for a considerable amount leading to mould and damage to the building structure itself leaving you with a hefty bill and lots of time wasted to rectify leakage damages. With the MClimate App, you will be alerted in case of leak detection so you can be able to cut the water supply and protect your home from water damage.
T-Valve successfully combines the comfort of the smart control from a distance and the simplicity of the intuitive manual control. You can use it through the MClimate App or just by pressing the physical buttons.
T-Valve is equiped with a long lasting battery, with an estimated period of efficiency equal to 10 years thus securing your home from leakages in the long-run and making it a preffered choice for residential and industrial buildings alike.
T-Valve has a built-in alarm
In case of a flood or a leakage, T-Valve makes distinctive sound to warn everyone at home in addition to sending a push notification to your phone that a leakage has been detected.
With its compact size, T-Valve fits everywhere
With a height of 117.02 mm and width of 90.80 mm, T-Valve can be easily attached on pipes placed even at places that are hard to reach and less accessible for manual shut off.
Battery: CR2-3V x 1
Size: 68mm x 68mm x 34mm
Standby time: 5 years
Battery life: 1 year (7 triggers/day); 2 years (3 triggers/day)
Connectivity: Wi-Fi 2,4 GHz
Wireless range: 45 m
Operating temperature: 0°C-40°C (32°F-104°F)
Oprating humidity: 20%-85%
In the box: Sensor, Extension probe, adhesive tape, mounting accessories
*30 days 100% money back guarantee & 2 years international warranty
Compatibility: 3/4"G plumbing installations
Sensors: Water temperature, ambient temperature, additional wired flood sensor, magnetic and box tampering
Connectivity: LoRaWAN or LoRa with Mom
Size and weight: 120mm x 90mm x 110mm, 488 grams
Battery: Internal battery 3,6V; 10 years estimated battery life
Remote control requirements: MClimate App for IOS or Android
In the box: T-Valve, manual, stickers
*30 days 100% money back guarantee & 2 years international warranty
Have more questions about T-Valve? Visit our Support Center.